I'm ankle deep in sawdust and my goggles have fogged up in this strange un-southern-Californian humidity, but I've got just enough energy to let you know how things are going two thirds through the two week process of giving life to three new Magnetic Cellos.
Here is the list of text outlining what I still had to do as of my last blog post. I've crossed out what I've done:
I will be sourcing some wood and some music stands to be turned into endpins, using a jigsaw and router to cut out the wood using the laser-cut template, assembling and winding three coil, wiring and gluing three magnetic bows, drilling out holes in three aluminum boxes to mount knobs and switches and other sundry panel mounted electronics, soldering together these panel mounted electronics, staining the body and neck and coil, soldering together two circuit boards, applying the ribbon sensors to the neck of the instrument, screwing together the neck to the body, the coil to the box, and the box to the body, and, of course, burning or engraving version and serial number, the date, and my signature in a discrete part of the instrument.
At a glance, it looks like I'm half done. But working the wood took all of last week, and the box, bow, and coil are really all that's left. And then I do the final assembly, tune and test. And play some Bach on each of the instruments.
Hopefully you've been following my twitter and getting  pictures every few hours this week showing my little bits of progress. But here's some of the best stuff, below.
One cello body after being jigsaw cut and before being template router cut: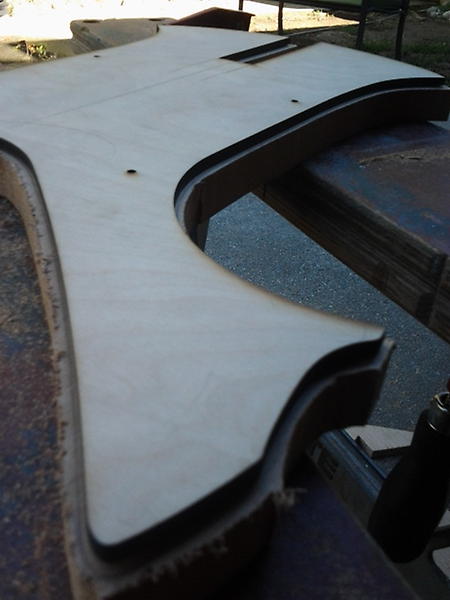 The template bit on the router is designed to stop along the template and cut the wood below: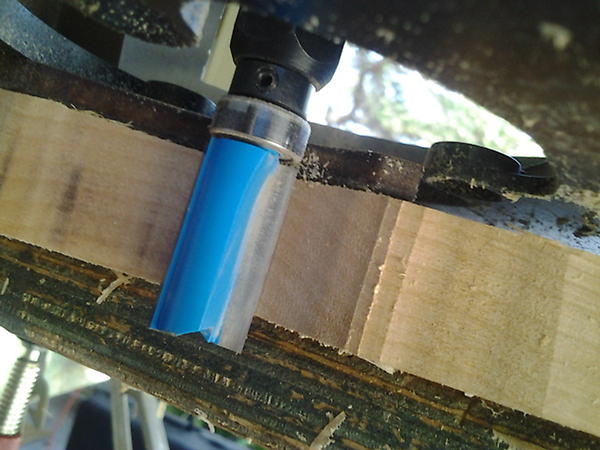 The result is very smooth curves. Here are the three instruments after routing, edge rounding, and sanding. The necks and bodies are bolted together. The box is mounted, but not the coil yet: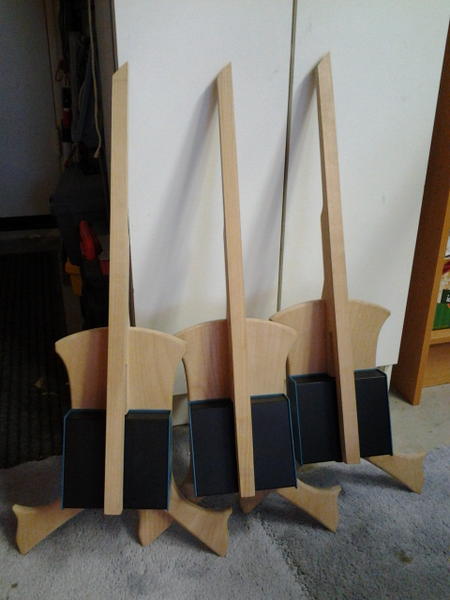 I took a break from wood and finished all three circuit boards: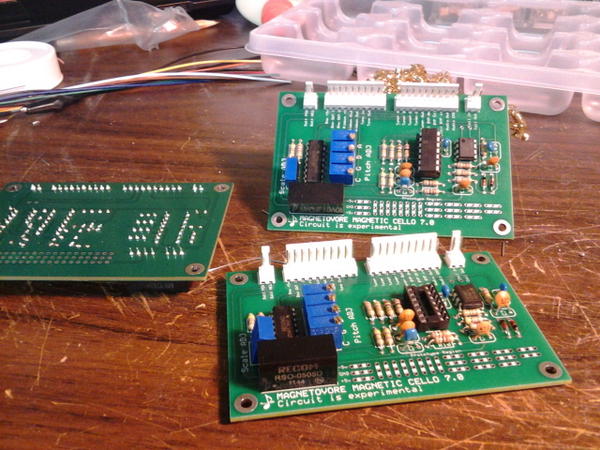 Then today went back and woodburned each instrument with its number, version, and name of creator. This information is burned underneath the circuit box and will only be visible during maintenance.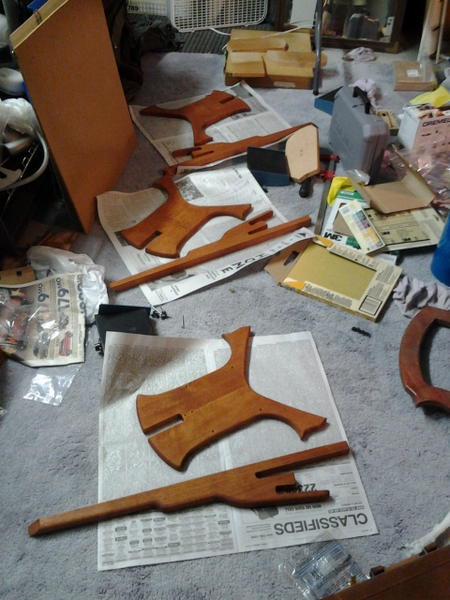 Finally, here are the three bodies after woodstaining. I still need to apply the protective glossy finishing layer. It's finishing week!