The three version 7 Magnetic Cellos are complete! It took a long week of sleep and video game deprivation, but I was able to finish the instrument before having to pack for college. Here is the picture I took at 5 in the morning, right after screwing the last neck in: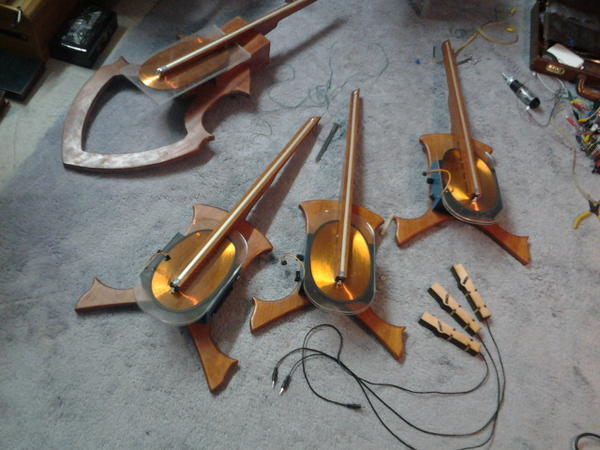 The instruments look and sound great. The coils look great and the construction feels solid.
But being an experimental run, there are of course a few tweaks that still need to be made. You may notice a few wires sticking out of cello's box. As I discovered at 3 in the morning, the circuit does not sound when the two parts of the box are screwed together. Due to connectors on the aluminum box, one half of the box is tied to ground, while the other half is foolishly tied to plus 5 volts. When the two box halves are connected electrically, the circuit shorts out. It's an easy fix, but it will require a fresh circuit board to fix the problem.
For now thought, the connector will be hanging outside the box. This quarter I'll be doing some customer development and reliability testing by letting my cellist friends at the instrument. Probably around winter break, I'll go back, adding or removing features from my friends' feedback (business skills) and fixing and improving any technical problems that rise up (engineering skills).
So, by year end, I'll have three new tried and tested version 7 Magnetic Cellos. No promises yet, but my old cello teacher is eyeing the instrument for his store, and I will look into selling an instrument or two on Amazon, Ebay, or an upgraded version of this website. I'll be keeping cello #1 for myself, of course.
But for now, I've just moved back to college, and have class tomorrow. I intentionally left most of my tools at home; I need to focus on class and friends, and paying off some of that sleep and video game deficit.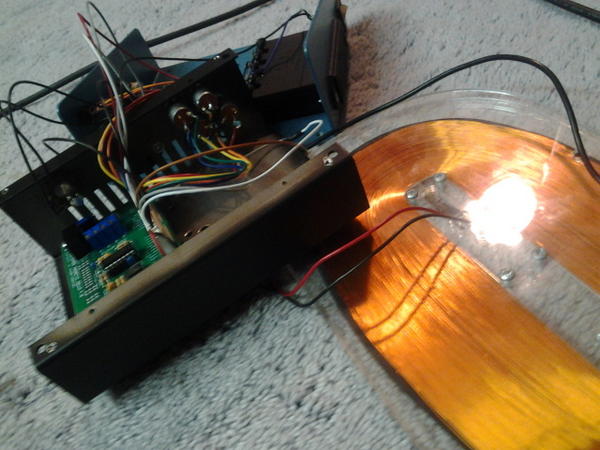 A lot of hard work. But a pretty great summer.