It's been 6 weeks since I finished the version 7 Magnetic Cellos and #3 and #2 has been in the hands of my three cello friends  for a couple of weeks. They are testing out the instrument and, I hope, enjoying themselves as they learn a song or two. No major problems have surfaced, although I may have to add some extra magnets to the bow.
I've been keeping myself occupied while I give my magnetic cellists some time to learn the instrument. I'm learning about how to use imaginary numbers and Euler's identity to solve circuits (Phasors are amazing) but I'm also using me free time to complete some nagging small projects.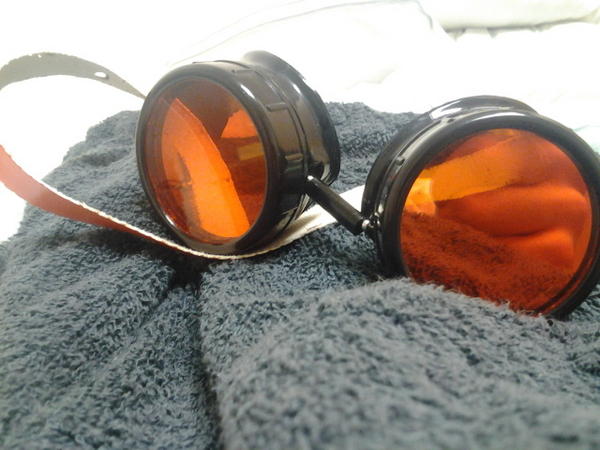 Every inventor kid's gotta have a nice pair of science tinker goggles. So my first project of this quarter was to make a nice custom pair of goggles. I cut out plastic circles  one orange filter and one tw0-way-mirror for each lens. The result is an awesome orange reflectivity. Halloween was an excuse to wear these goggles around campus.
Project number two is an evolution of the papercraft piano and cello scale calculators from last April (That's a winder of a name… working on that). Folks on youtube and hackaday wanted a scale/chord slider made for the guitar, so, after a bit of canoidering, I was able to decode all the minor and major chords on the guitar, and fit it all on two business cards. By sliding one card past the other, any guitar chord can be displayed. An interactive and fun way for a novice guitarist to learn his or her chords, and it'll fit in the card slot of your wallet.
Below is the latest prototype. I ordered 100 business cards with the chord pattern. I has to use an Exacto knife for the card in the picture, but once I get a hole puncher I'll be able to make clean cuts and I'll be able to pass around prototypes.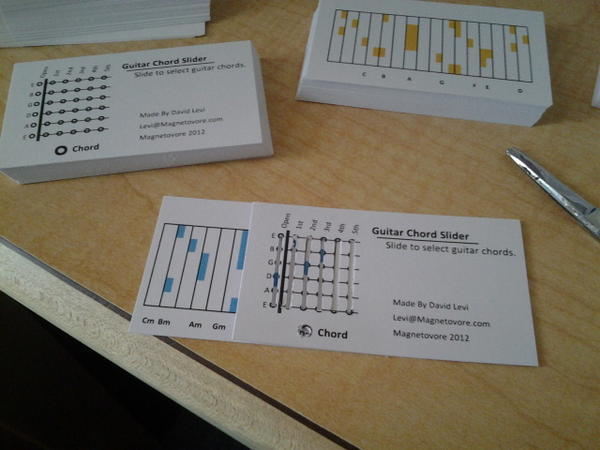 I've still got to test the actual thing with real guitarists, but when the thing's ready, it won't be too hard to print out a few on nice plastic cards, made of clear stock with transparent windows to show one card thought the other. There might be a market for sliding guitar chord guides (still working on a good name, do you have any suggestions?).
Finally, I've been working to improve the few mistakes I know I made on the Magnetic Cello V.7.0. I cleaned up the instrument's printed circuit board, removing unneeded features and fixing the demux so that the bow jack can attach to the box without shorting out the power buses. Here's the difference (improved board is on the right):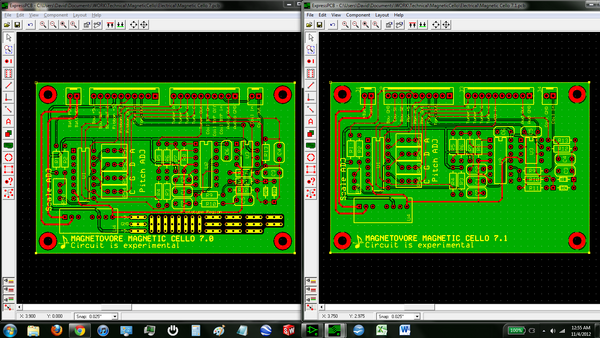 I think that's it for now. You'll be hearing more about the Magnetic Cello and Guitar Chord Slider once I get some good feedback. Hopefully I'll get the thumbs up.