Another quick update, now that I'm half way thought building the next batch of Magnetic Cellos.
This last week was all about melting lead-free solder and making solid, permanent electrical connections. First were the circuit boards: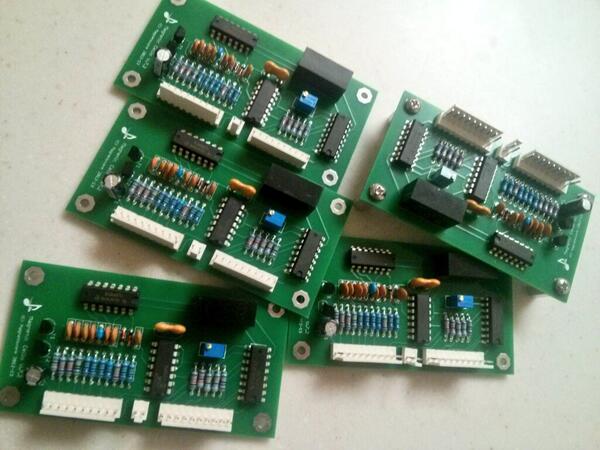 Last summer I designed the boards so that all the resistors (the blue things) and capacitors (those orange/tan pieces) were in neat rows. This made placing and soldering each part a much more organized and streamlined process. Thanks to planning ahead (and a nice new iron) I was able to solder these 5 boards in only about 6 hours.
Once I had tested each board, it was time to wire each box. And that means rainbow wiring, all across the table: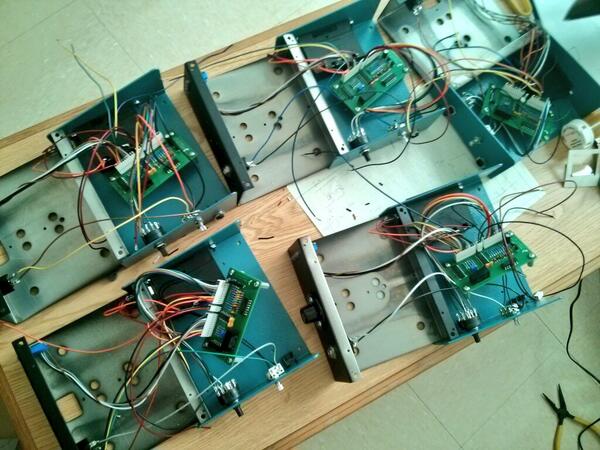 It's amazing how it is only a little bit harder to do something 5 times vs. once. After I figured out the best way to wire a part the first time, repeating the process 4 more times was almost automatic. Thanks to this small-scale series production, I was able to complete some 700 board and 120 panel solder joints in around 12 hours.
We'll soon find out if I'm able to work as effectively in the next stages of assembling the instruments. I still have to wind the coil, install the ribbon, fit the box into the wooden body, glue together the bows,  and do some final wiring, all while verifying that everything is working properly and up to spec along the way.
The plan is to have the main instruments done by Christmas, and to finish the bows and wrap up final details in early January.
See you on the other side!